YEALINK CP900 – Experience one of the first certified Microsoft Teams speakerphone
Datasheet for CP900 – Yealink-CP900-Datasheet
Yealink's Microsoft Teams edition speakerphone is well-integrated with Microsoft Teams, and comes with a dedicated Microsoft Teams icon to access Microsoft Teams functions.
• A flashing light indicates a notification for an unanswered call, a voice mail, or an upcoming meeting from the Teams application.
• Press to activate the Teams application.
• Press to access the Cortana intelligent assistant. The above Teams-dedicated features are supported by the CP900.

YEALINK CP960 –  speakerphone
Datasheet for CP960 – Yealink-CP960-Datasheet
The Yealink CP960 is an IP conference phone which comprises the power of the Android 5.1 operating system. With user-centric design philosophy, the Y-shape CP960 offers simplicity of use, making it perfect for any team environment – especially for medium to large conference rooms.
Yealink CP960 Key Features
Optimal HD audio, full duplex technology
Yealink Noise Proof Technology
20-foot (6-meter) and 360-degree microphone pickup range
Two optional Wireless Expansion Microphones (CPW90)
Built-in 3-microphone array
5-inch multi-touch screen with 720 x 1280 resolution
5-way conference call
Built-in Wi-Fi (2.4GHz/5GHz, 802.11.b/g/n/ac)
Built-in Bluetooth 4.0
With HD audio quality, your conversation will sound natural and bright anywhere in the room. The elegant CP960 also allows you to connect an external loudspeaker to it if necessary. The Yealink CP960 provides an engaging business conference experience with an outstanding balance between ease-of-use and powerful features, delivering a smarter audio conferencing solution for your company.
Wide-Range Voice Pickup
Featuring 20 ft and 360 degree dead-zone-free voice pickup, the Yealink CP960 conference phone provides HD sound to both medium and large audio conferencing environments. An optional pair of Yealink wireless microphones can increase voice pickup distance to 60 ft, allowing every meeting participant to be involved and clearly heard within the meeting environment.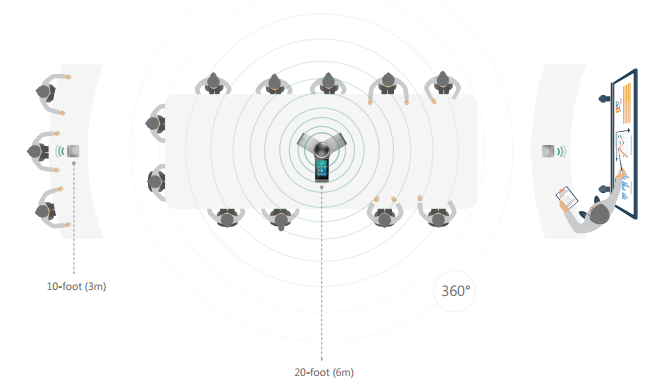 Ergonomic Design
Stylish and professional, the CP960 features metallic silver and a UV process design, bringing an upscale touch to any meeting room. The five-inch high-resolution 1280 x 720 multi-touch screen puts fast and smooth controls at your fingertips, adding simplicity and comfort to the business conference experience.